Superpsychology LOP
This is the official site for superpsychology. Superpsychology is a suite of experiential-based sciences that can heal psychoemotional suffering. It consists of the recent discoveries of two natural laws that explain individual behaviour and human evolution, a third postulated law that provides insights into the nature of the universe, and a postulated theory relating to evolution (not online).
Superpsychology fuses into a whole information from the following disparate areas: animal behaviour; split brain research; the social sciences; religion; reexperiencing-based therapy; the Theory of Evolution, and the search for the Theory of Everything. It is a broad-ranging body of knowledge that makes a unique contribution to society. A notable outcome of superpsychology is that it restores natural ambidexterity due to the brain becoming free of mental (psychoemotional) blocks, thus proving that it can rewire the brain back to normal.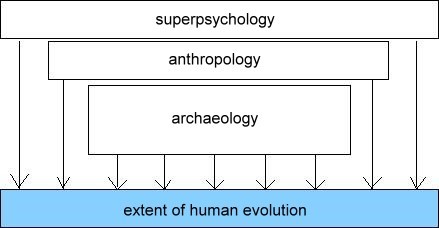 Superpsychology is not only a therapy, but it also builds upon archaeological and anthropological knowledge to provide the most comprehensive information to date about human evolution.
Introduction
The laws of pain
Therapy
Articles
Ambidexterity

World Events explained from the unique perspective of
laws of pain

science
Public Relations
---
Translate This Web Site into a Different Language
At the website below, just enter the URL address of the page that you want to translate.
www.freetranslation.com
---
Address Details
Superpsychology LOP
26Toongabbie Rd
Toongabbie 2146
Sydney NSW Australia
web email: 3superlaws(at)gmail(dot)com
handout email: as per handout
phone: 0421 173 424

---
Text and/or pictures / images / sound / video
© copyright Lane R., 1997-present
Superpsychology LOP
All rights reserved